Home Theatre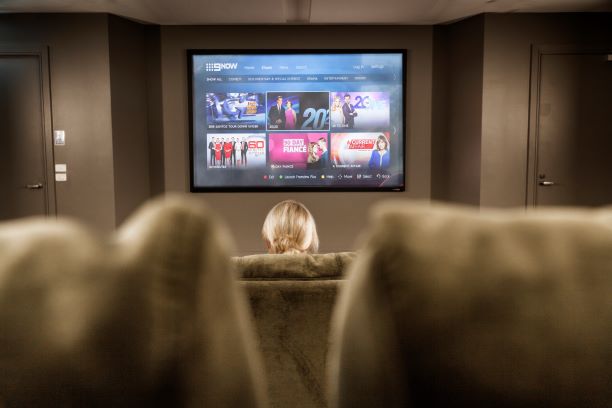 Love your Friday nights watching movies at home, weekend sporting events on the big screen, or gaming? Or may be you just want a dedicated home-theatre room to let the kids be kids and watch their movies and games out of your sight and sound?
A theatre room could be your solution and at Jim's Antennas, we can help with home theatre installation. Call us 7 days a week on 131 546.
Some elements you may need to know before installing a home theatre:
Ascertain if the room where you propose to install the home theatre lets you use a projector or not. A projection system's range is known as "throw". Different projectors have different ranges of throw. It's measured by the projector's distance from the screen. You can determine the projector's throw ratio online before making the purchase. The manual also has this information if you already possess one or you're buying from a store.
Don't put the projector near a doorway or window. If your room has windows, the best you can do is have the screen and projector placed perpendicular to the doors and windows. Refrain from placing a projector in such a way that it either faces towards or away from the window.
Pay attention to the speaker placement. If you decide on in-wall speakers, ensure the rear speakers aren't placed too low onto the wall. This can lead to sound fluctuations – the sound may be excessively loud in certain scenes which make the centre speaker almost inaudible.
Wiring is one of the most critical aspects of a home theatre setup and if you're not an electrician by profession, we advise you to hire one.
To create an immersive home theater environment, you'll want, at a minimum:
A quality surround sound system that makes your feel like you're at the movies
The biggest HDTV or UHDTV you can manage on your budget or Projector & Screen
A hardwired Internet connection maybe required for Smart TV's or Gaming
Avoid all the hassle. Contact Jim's Antennas experts right away for installing your home theatre.
Jim's Antennas specialise in home theatre setup, including:
Hidden Cabling
Surround Sound
Speaker mounting and custom wall plates
Projector installation
Installation of projector screens
Home theatre remote controls
Since our installation team is backed by over 150 Jim's Antennas franchisees nationally, we can guarantee that your system will be installed quickly, professionally.
We are happy to supply and install the entire system for you, or we can install your own existing or pre-purchased system.
Whatever your needs, we can assist with professional home theatre installations. Just call us today on 131 546 and get your obligation-free quote. You'll be enjoying your favourite shows and movies in state-of-the-art surrounds in no time at all.
A home theater system will bring magic and excitement to all your video entertainment. Find out where to start, what you'll need, and how to choose your equipment to get the best experience within your budget. Our expert team will guide you to plan the right system for your room, with tips on choosing the type of system you want, speakers, audio electronics, and even which TV or Projector and Screen. We'll also cover the many entertainment sources and what you can expect from each.
To request a quote or booking, please click the button below to fill out the form below and your local franchisee will be in touch with you shortly.