Jim's Antennas & Security Dual Franchise Opportunity for Regional Areas
COMBINED FRANCHISE OPPORTUNITY WITH JIM'S ANTENNAS & SECURITY 
Jim's Security and Jim's Antennas, are divisions of the Jim's Group of companies, which have come together to form Jim's Digital. With 150+ franchises in our group and combined turnover of +$35M we are the largest home technology service business in Australia.  We attribute our success to many years in the industry, regular training to stay on top of the latest technology, outstanding service and a great team.
The joining of Jim's Security and Jim's Antennas creates an exciting opportunity to operate a dual franchise business within regional towns in New South Wales, Victoria and Tasmania.
Our experience has shown that in regional areas, security and antenna work makes a great combination. The skillset for Antenna and Security work is complimentary with cabling the key competency required for both industries.
Antenna work is consistent with jobs converting more quickly, providing a good stable cash flow for your business. Security is a high growth industry, and the addition of higher value security work gives you an opportunity to significantly boost your bottom line.

OPERATE YOUR OWN BUSINESS – with the marketing, backing and support of Australia largest, most respected, trusted and highly successful franchise company – the Jim's Group.
FULL TRAINING PROVIDED – for not only the initial set-up of your business, but also ongoing management assistance and for the sales/supply/installation, of the latest technology in Antennas and Security divisional equipment.
DEVELOP A VALUED BUSINESS – become a one-stop audio-visual and security provider to businesses and residential customers in major towns and regional areas of New South Wales, Victoria and Tasmania.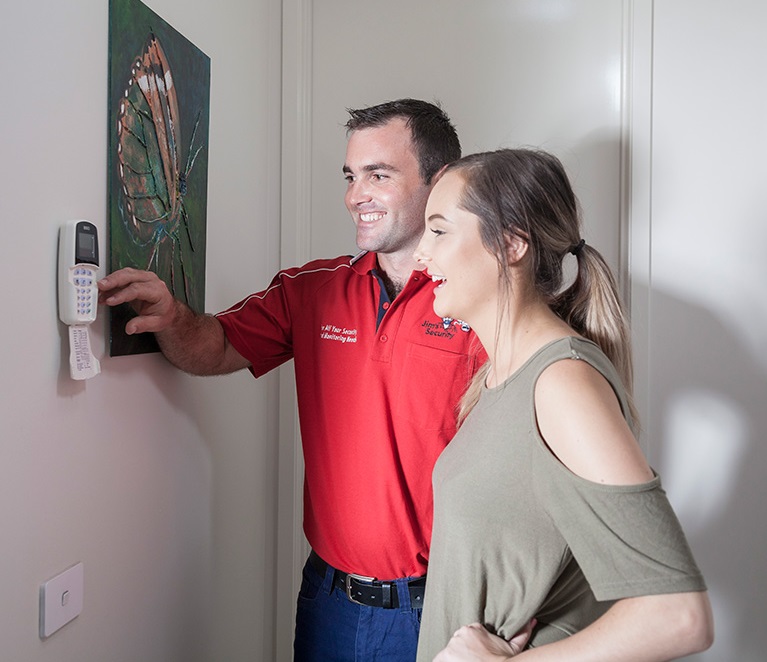 Our Dual Franchisees specialise in a variety of security, audio visual and house communication services, including security alarms, CCTV, intercoms, access control, antenna installations and repairs, TV wall mounting, data points, Wi-Fi, Wireless Access Points, home theatre, and MATV systems and national contracts such as wireless NBN.
Some of our greatest success stories are in regional areas. Watch the video below to see David's experience as a regional franchisee working with Jim's Antennas in Horsham.
DO YOU HAVE – the drive and willingness to apply yourself and work hard to achieve financial success, combined with a balanced work/family lifestyle?
ARE YOU CONFIDENT – in your ability to learn the required competency and skills through the training that Jim's Security & Antennas will provide you?
DO YOU POSSESS – a pleasant, likeable personality that will endear you to customers and instil the confidence, that you will provide them excellent service; professional work practices and quality equipment?
If you fit the above criteria, we'd love to hear from you! Please complete and submit the contact form below.
Once we have received the form, we will call you for a casual chat to answer any of your questions, queries or concerns. We will then send you our full information package, further explaining the Dual Regional Franchisee role. 
For more information about our Security division, click the link below: https://jimssecurity.com.au/