Prompt Digital TV Antenna Repair, Replacement in Perth
Jim's Antennas has been servicing Perth for over 20 years, providing quality Antenna Installation and Repair Services for audio-visual transmission devices and accessories.
We offer a no obligaton Free Quote; and carry a range of digital TV antennas to make sure we only install the best one specifically suited to the Perth specific location, topography and signal strength. As Australia's largest Antenna installation service, Jim's Antennas only use industry leading digital antennas backed by a 3 year guarantee; and Jim's famous 100% satisfaction guarantee.
We cater to tv aerial installations, digital antennas, digital set-top boxes, and home theater installation, including their service and maintenance.
Additionally, we have other offerings in the form of projector installation and different types of screens including LCD, and LED TVs, as well as installation of data points, phone points and Wi-Fi extensions.
Our Digital Antenna team are fully trained, insured and police checked.   Call 131 546 from 8am-8pm; 7 days. Or Book Online 24/7.
Digital TV Antenna & Satellite Dish Installation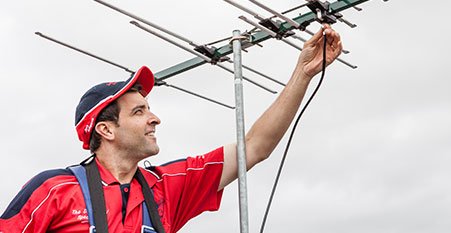 Digital TV Upgrades, Antenna Installations, Antenna Servicing, Diagnoses of Reception Issues and Satellite Dish Supply and Install are our specialty in Perth.
Expert Digital TV Services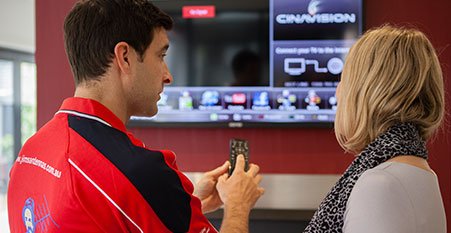 Jim's Antennas expert antenna installers in  Perth specialise in Home Theatre, Digital TV and TV Point installations.
Effortless Home & Office Automation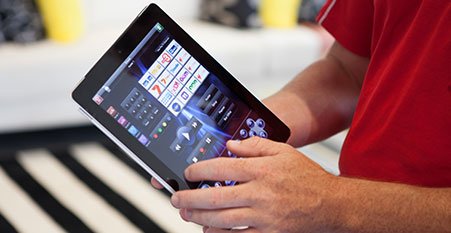 Looking to automate your Perth home or office with the latest technologies? Jim's Antennas expert technicians are qualified and experienced in the latest smart home technologies.
Residential and Commercial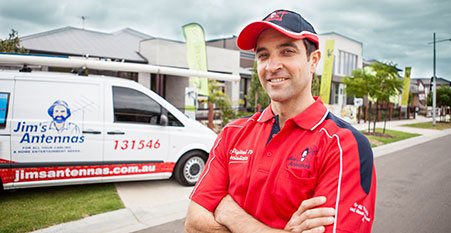 Jim's Antennas Perth has a dedicated team of experienced commercial technicians who specialise in MATV, SMATV, Multi Switch and Head End Systems for residential and commercial multi dwellings.
We've Got Perth Covered
Why Choose Jim's Digital TV Antenna Installation?
Australia's largest antenna installation services
Obligation free quotes provided before we start work
Fast hassle free service in any suburb
Wide range of services to suit your home or office
Experts specialising in large scale commercial projects
The confidence of using a Jim's Group service
See Us In Action
Anywhere in Perth
Whether you have moved into a new residence in Perth or wish to upgrade your existing Aerial or Antenna, we can advise you on the different types of antennas, components and installation methods that would suit all areas and every type of home or building.
You may also be experiencing pixellation or signal loss problems. All you need to do is give us a call on our local number 131 546 and the problem will be resolved within no time.
In Perth, we are simply the digital reception Kings and remain the one-stop destination for most residents of Perth.
Join The 900,000+ Satisfied Jim's Antennas Clients!
Choose The Best
At Jim's Antennas we tend to take our customers service seriously, and have hundreds of expertly trained Jim's Antenna's Franchisees spread throughout Australia, and through WA to sufficiently cater to the demands of our ever expanding client base.
Jim's Antennas can attribute its success to the hugely passionate technicians, some of whom boast over 20 decades' wealth of knowledge in this industry. Now, that's the kind of personnel you want visiting your premises, right?
Free Written Quote provided in advance
Police Checked
Fully Trained
Industry Experience
Comprehensive Insurance
Fully OH&S Compliant
100% Satisfaction Guarantee
Jim's is a very reputable company, guarantying excellent service but without the huge price tag.  In short, we do a high quality job at great value. We don't spring any nasty surprises, with free written quotes provided up front.
How many companies can claim to do that?
Quality Service
The reason why we boast such a prolonged history (save for quality work and satisfied customers) is our ability to change with the times. We stay up to date with the latest technology because we are passionate about what we do. We are more than a digital antenna installation company.
Over the years, most of our business has come from word-of-mouth referral, and that alone can tell you a lot about the kind of people we are. Our happy customers in Perth and the suburbs of Perth recommend us to their friends, associates or family living here.
All you need to do is give us a call or request an obligation-free quote any time of day, or night. Call 131 546 – from 8am-8pm 7 days a week. And we'll do the rest.  Or book online here for a free, no obligation, written quote.