Antenna Installation
Antenna Installation for Digital TV
When it comes to Antenna Installation for your home, holiday house or commercial property – Jim's Antennas are your local techexperts.
It doesn't matter if you don't know what you need when it comes to your new antenna, but if you've just built or moved into a new property that doesn't currently have an antenna system or you know you have TV reception problems – pixelating, dropping out or scratchy – call us at Jim's Antennas and we'll help you with all your antenna installation needs.
Our team of installation experts specialise in all types of aerial installation tasks. Your local technician will fit the correct Antenna for the type of TV reception available in your local area.
All Jim's Antennas franchisees are highly trained and fully qualified to diagnose and repair all Reception Issues for your Free To Air TV.
Line of sight to your nearest transmission tower is an important factor in choosing how and where the antenna is located on your roof as it often happens that if located further away or obstructed from the nearest TV transmitter, reception problems crop up.
We will first test the signal strength at your roof and then install the right antenna in the most suitable position – so that you can enjoy your favourite TV shows without any reception problems.
Jim's Antennas will also ensure that the antenna functions properly even if there's heavy rain or storms – so that you are not devoid of crystal clear reception at any point in time.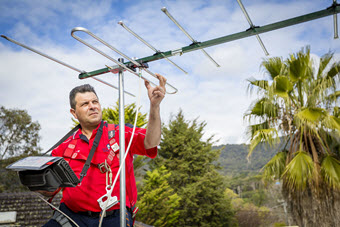 Fixed Price, Expert Estimates
Whether you live in a house, a unit or anything in between, our team has experienced professionals who can help with your digital antenna installation and they will provide you with a free onsite no obligation quote to get your TV reception working at peak performance. Call us today on 131 546 or book online
The Reliability of the Jim's Group
We're also part of the trusted Jim's Group network, which means we have access to the best products, information and pricing so you can rest assured that you'll get great advice and value-for-money plus we're fully insured and police checked to work on your premises. Don't forget the Jim's Group work satisfaction guarantee.
New Antenna Installation or Repairs
If you bought an antenna but are having second thoughts about installing it, just give us a call on 131 546– we handle TV aerial installations every day and we'll make sure all your cabling is correctly installed and ready for prime time TV viewing.
We can also install new televisions for your safety and convenience, including putting up brackets, tuning your stations and hiding messy cables.
If you think you love television, we guarantee we love it more; so call us if you have any antenna installation or audio visual requirements and you'll be back to enjoying your shows again in no time.
Why Choose Jim's Antennas?
Australia's Largest Antenna Installation Services
Local Techexperts who own their own businesses and support their local area
Obligation Free Onsite Quotes provided before we start work
Fast hassle free service in any part of Australia
Wide range of services to suit your home or office
Experts specialising in large scale commercial projects
Police Checked, Fully Insured and Licensed
Jim's Antennas & Manufacturer Lifetime Guarantees
If you are after a premium antenna that will stand the test of time – Jim's Antennas are proud to say we've partnered with Matchmaster and Bitek Pty Ltd to provide premium digital TV antennas for both UHF and VHF applications that come with a manufacturer's lifetime guarantee.
Follow the links to learn more about our our full range of Matchmaster Life-time Guarantee Antennas and the lifetime warranty we offer on the Hills Antenna Branded TRU Series range.
Have you used Jim's before?
Selected Franchisee:
Gold Contractor