WiFi, Internet and Data Points
Is your Internet cutting out during important work meetings?
Do you find yourself waiting for Netflix to load?
Are your kids complaining about their video games lagging?
We depend on our Internet for just about everything: from work and education to entertainment and keeping in touch with family and friends. So it comes as no surprise, that slow or unreliable WiFi can be really frustrating for all household members.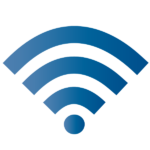 Whether it's for business or pleasure a fast and reliable Internet connection is essential.

If you're having Internet or WiFi issues, we'll fix it:
We will test the speed and strength of your Internet and WiFi
Recommend and implement a solution tailored to the specific requirements of your home or business
We are experts in:
Identifying and fixing WiFi dead spots
Installation of hard wired data points Installation and setup of wireless access points for extended Wifi Coverage
Point to point Wifi Links between buildings and properties
Installation of fixed wireless 4G/5G antennas
Commercial WiFi Solutions for offices, warehouses and retail
Installation and repair of NBN and telephone cabling including relocation of NBN modems.
We stock the following brands:
Jim's Antennas is also the preferred installer and platinum partner for Powertec.
We can also help you achieve:
Extended Wifi coverage to outdoor areas
Wifi Coverage for outbuildings including sheds, bungalows etc.
Wifi and Internet coverage to rural properties and farms
Wifi and Internet coverage to outdoor recreation facilities
Internet solutions where NBN is not available or performing poorly
If seeking help with any of your WiFi, Internet or Data needs, contact our team at Jim's Antennas for fast, friendly and reliable service throughout Australia.
Call today on 131 546 or complete the online booking form for a free, no obligation quote.